Cathedral of Santa Anastasia – Santa Severina
The Co – Cathedral of Santa Anastasia, built on the ruins of a previous structure, was built at the behest of bishop Ruggiero di Stefanunzia between 1274 and 1295.
The church has a Latin cross basilica plan with a dome that recalls the plan of the former Cathedral dedicated to the cult of the Addolorata. The facade, rebuilt in the 18th century, is marked by two superimposed orders characterized by pilasters, blind arches, niches and three splendid stone portals surmounted by bishop's coats of arms.
The main door, characterized by an ogival arch, is the only survivor of the original structure.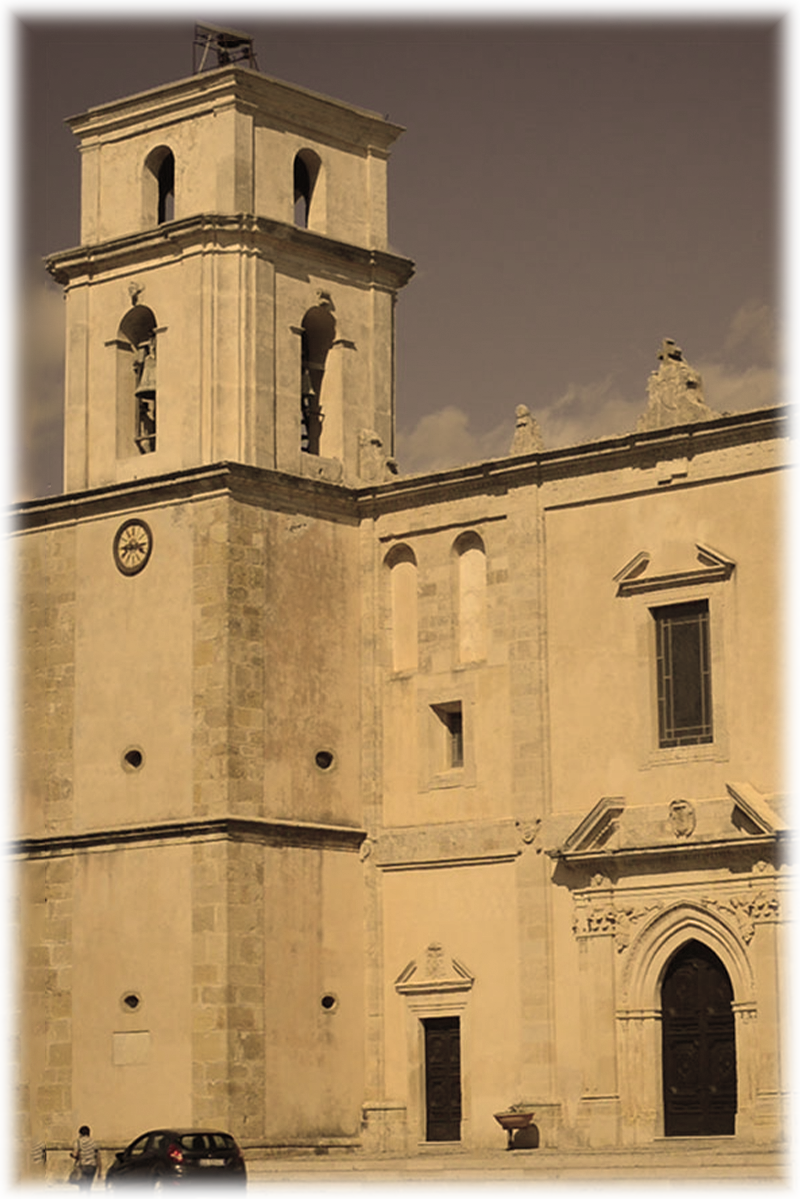 The interior, with three naves, has a lacunar ceiling with a central painting and side frescoes with scenes from the Old and New Testament made in 1905-1907.
The presbytery holds on the right a marble ambo, commissioned by Bishop Caffarelli, on which you can see a carved tablet that portrays Jesus among the doctors; on the left, on the other hand, stands the wooden bishop's throne commissioned by Carlo Berlingieri, as evidenced by the coat of arms, built in the eighteenth century.
Behind the marble altar, characterized by polychrome inlays, hides a choir with wooden stalls leaning against the frescoed walls.
In the right aisle there are three chapels dedicated respectively to the Crucifix, to Santa Anastasia and to the Madonna degli Angeli.The chapel of the Crucifix houses, inside a baroque wooden altar decorated with plant motifs in relief, a wooden crucifix of singular workmanship ascribable to the fifteenth century.
In the chapel dedicated to the Patron Saint, there is a copy of the painting which portrays Saint Anastasia with her typical iconographic symbols; the original work of the Neapolitan artist Fabrizio Santafede is kept in the Diocesan Museum.
In the left aisle, on the other hand, there are the chapels of the Most Holy and of San Leone, the latter of considerable historical-artistic value as it evokes the homonymous Cathedral which was suppressed in 1571. 
At the end of the nave, moreover, a fresco attributable to the sixteenth century is visible, in which is portrayed the Madonna and Child between San Francesco di Paola and a Saint bishop portrayed with crook and miter lying on the ground. 
To the left of the Cathedral is the Byzantine baptistery built in the 10th century; of singular value and beauty for its uniqueness, it has a Greek cross with a circular plan set on eight bare columns that support the dome with octagonal drum and blind lantern. At the center of the structure is the marble baptismal font. On the walls are visible remains of frescoes ascribable to the 10th-12th century.
A cura di Elisa Cagnazzo.
The main door, characterized by an ogival arch, is the only survivor of the original structure.